Do you know which of the articles and blog posts I have written about Marie Antoinette is the most popular (besides
The Royal Dildo
)? The answer might surprise you.
You would think my most popular blog posts would be the hilariously titled
Flatulent Fatties & Monsieur Fancy Pants: Political Cartoons in 18th Century France
or the intriguing
My Unexpected Encounter with Marie Antoinette
, but they were not.
My most popular post about Marie Antoinette, the one that gets hundreds of hits per day, is
'Tis the Season for Marie Antoinette
, wherein I reviewed numerous Marie Antoinette-inspired goodies available for purchase.
The popularity of that piece has encouraged me to write another one, updated with loads of royal booty fit for a queen. So, without further ado, here are some fabulous Marie Antoinette-inspired creations available for purchase (and just in time for Christmas)!
'Tis The Season for Marie Antoinette ~ 2011 Edition
If this darling little cosmetic tote had been available in the eighteenth century,
Léonard Autie, Marie Antoinette's coiffure
, surely would have carried his powders and pomades in it!
TokyoMilk
makes several other Marie Antoinette-inspired products, including a pocket mirror, perfume, and bubble bath.
The classic board game gets a royal makeover! From Amazon: "Calling all nice girls who like stuff! You've been summoned by her Majesty Juicy Couture for an exclusive Fashion show "preview" of the new spring line only to arrive and find out that an essential part of the new juicy line is missing! Is is an act of sabotage? You must discover what couture item in the line was stolen, who took it, and where the item is hidden before the fashion show begins the next day! Do you have the smarts to solve this crime of couture and save the show?" Can you say, "Marie Antoinette themed Game Night?"
This charming handmade decoupage ornament was made using an image from a Christmas Card of Marie Antoinette and a reproduction of an 18th century wallpaper. A beautiful red bow, red glitter glass, and an ornamental wax seal complete the ornament. This ornament and many other Marie Antoinette inspired Christmas ornaments are available on the Etsy store
Have A Marie Christmas
.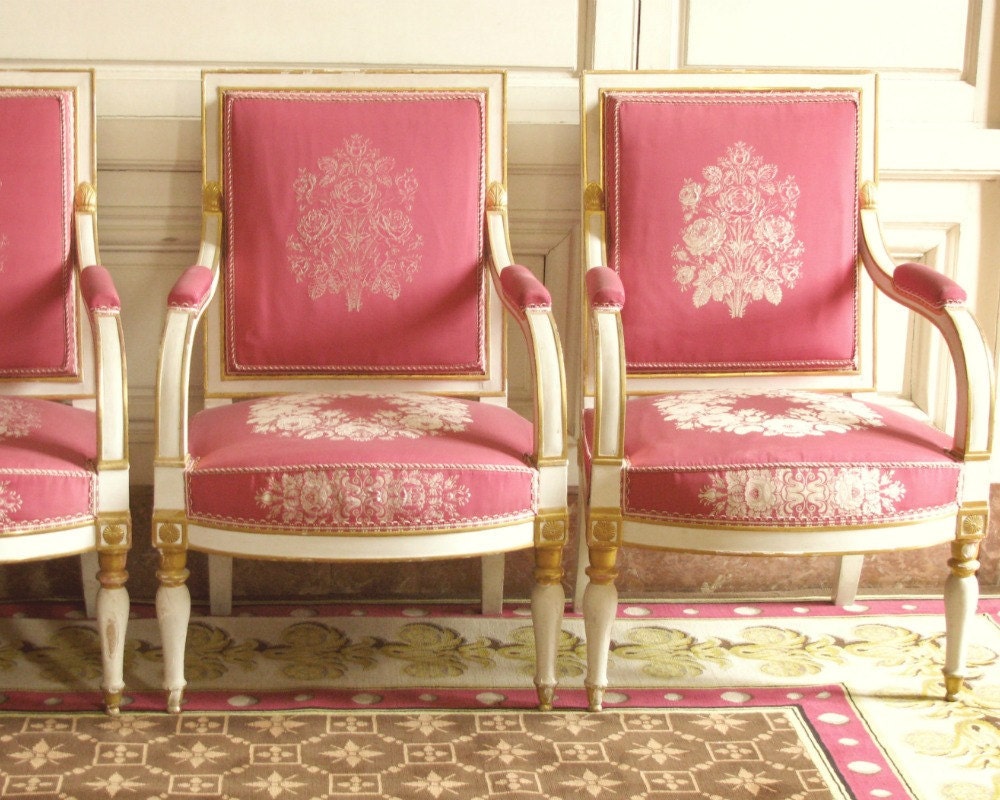 This beautiful photograph of pink chairs once owned by Marie Antoinette was taken at the Petite Trianon at the Palace of Versailles in France. This image would look stunning mounted with an eggshell pink matt and framed in antique gold. Can't you just see it hanging in your boudoir?
This chocolate cherry cake scented soy candle comes in a darling tin embellished with an image of Marie Antoinette and German glitter glass from the
Royal Bebe Shoppe
.
Last year I featured Ladurée's tin of Marie Antoinette Loose Leaf Tea as a must-have. My best friend gave me a canister of the tea for my birthday this year (Merci Fanny!) and I thought it was so utterly delicious I intended to feature it again this year. However, Ladurée's website is down for redesign, which means the only way you can score some of their queenly tea is to visit one of their stores (or get yourself a best friend as generous and fabulous mine). So, this year I am featuring Marie Antoinette Tea from Paris in a Cup! The tea is a royal blend of hibiscus, sultanas, berries, black currant, rose hips, apple, chamomile, and sunflower blossoms and is naturally decaffeinated!
A "juicy tell-all" written by a decendent of Suzanne Necker, the wife of Louis XVI's Minister of Finance. Madame Necker was a writer, brilliant salon hostess, and the mother of Madame de Staël (an author, society hostess, and arch-enemy of Napoleon Bonaparte).
At first glance, some might mistake this round, shiny plastic disc as nothing more than a CD of Rococo Music, but it is actually a vehicle which allows one to travel through time to a palace and convent in eighteenth century Versailles, France. Whenever I listen to the haunting, enchanting music on this disc, I need only close my eyes and I am sitting on a pew in a convent in pre-revolutionary France or gliding through the Hall of Mirrors at Versailles. This is a MUST OWN for Marie Antoinette enthusiasts.
Click on the video below to listen to
music
from Les Musiques d'une reine
When I visited Scotland last summer, the damp weather and my frequent desire to hike through the swampy highlands sent me on a frantic search for authentic Wellies (I only packed strappy sandals and fashionable walking sneakers). I found two pairs in my size at a little store in Inverness: one was black and the other

pink

. Which do you think I chose? I'll bet you said "pink." Well, prepare yourself for a shock: I chose the black pair. I adored the pink pair but they didn't match my purple and black rain slicker and I am a bit OCD when it comes to matching. Yes, my OCD over-rode my penchant for pink. BUT, if the Marie Antoinette-inspired rain boots pictured above had been available, I would have risked committing a fashion faux pas and clashed. You can bet these Queenly Wellies are at the TOP of my Christmas Wish List!





Check back, I will be adding
Have Yourself a Marie Little Christmas ~ Part Two
soon! In the meantime, I would like to wish you, the most fabulous blog readers, a
Happy, Blessed Holidays!